The Art of Choosing a Manufacturing Partner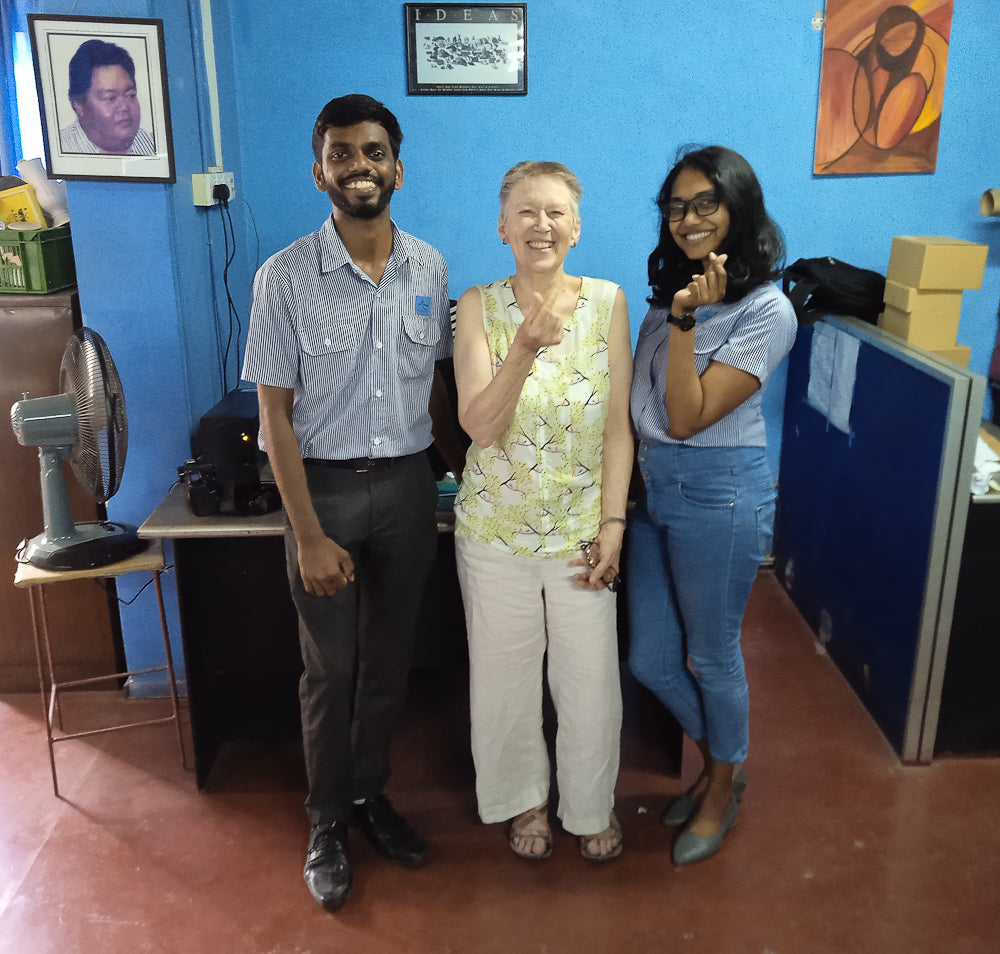 As a hands-on designer-maker for my own small brand, choosing the right partner to work with - someone you feel confident will be able to reproduce your prototypes to a high standard and who is happy to work with a smaller business - can be hard to find.
Midaya Co, a family-run ceramics manufacturer in Sri Lanka, is the second manufacturing partner I've worked with. Our collaboration began early on during Covid, a period when in some ways Sri Lanka felt no more remote from my base in rural France than did the UK. At the time we weren't allowed travel further than my local shops!
My search to find a manufacturer in the UK or in Europe had taken a considerable investment in time and money. However, there was always a reason why none of them were suitable for me. It wasn't only a question of price but also of minimum order sizes, of the type of clay, and of the different manufacturing processes involved. What seemed to pose a particular challenge was reproducing the textural qualities and unglazed areas that were a essential part of my design.
I had hand-thrown my prototypes and decorated them with lines of coloured liquid clay known as "slip" or "engobe". I was very attached to this as a method because the tactile quality of the raised surface of the slip line is an important element of the finished piece, as is the unglazed part of the pot.
I had met Midaya at a London trade fair, it was the only company I had encountered who could and would do this, and is flexible enough in its approach to allow manageable (for me) order quantities. I was reassured both by the fact that I knew other small businesses with whom Midaya worked and that they also worked for other much larger and better known brands.
At a time when we're increasingly conscious of the ecological implications of manufacturing, that still left the question of distance and working conditions. While I think it's a valid argument that companies like Midaya provide revenue for their often struggling national economies and offer secure employment for a considerable number of people, I decided that I really had to go and see the factory for myself. This was important not only to reassure myself that it was as ethical a business as my researches had indicated but also because I wanted to discuss ideas face to face and learn more about the technical means Midaya were using to bring them to life. I needed to know what I could realistically ask; things that seem perfectly straight-forward in a small studio like mine, may actually cause major head-aches when scaled up and having to fit in with their other clients' orders, using different materials.
So last month I set off on my first travel outside Europe for more than 40 years! It did feel like a major undertaking  - it's  800km from my home to Paris where I had to catch the plane to Colombo. But, visa obtained, immigration card filled in and accommodation booked, I set off at the end of March for a five day solo visit.
My introduction to the factory kicked off at 10am the day after I arrived. I was met by Midaya's managing director Anura Warnakulasooriya and Jonathan Smith, head of marketing and design. Anura and Jonathan took me on a complete tour of each department. I was shown the preparation of their in-house clay bodies and every step thereafter - from models and moulds to finished products. I'd sent glaze test samples ahead of my visit,  and Midaya's glaze lab had prepared its own samples in response and we were able to discuss their initial results and plan further fine-tuning.
I was hugely impressed by the skills displayed and the degree to which hand techniques are used through the making process. There were numerous occasions during the production when the pieces were individually checked for any quality issues; if any were found, these were corrected if possible - or the pieces removed. All waste clay along the manufacturing process is systematically recycled. I also enjoyed eating with the staff in the subsidised canteen and was introduced to many of the 250 strong workforce.
The three days I spent in the factory really gave me a feel for the way the business ran, both in terms of Midaya's willingness to try to accommodate whatever the client asks, and to form a really favourable impression of the relationship between the staff and management. I was also pleased to learn that the staff are unionised and that issues such as wages are negotiated with management by the union.
On a lighter note, my last day in the factory was April Fool's day and it was clear that a lot of leg-pulling was going on! It was also the run-up to Sri Lanka's most significant annual holiday which is the Sinhalese New Year on the 13/14th April around which date the factory, along with most other businesses, is closed for a week.
I've returned from this short but intense visit my head spinning with information and ideas, as well as feeling that I've made many friends. I am not only reassured that I'm working with a company that is creating products of great quality - but that has the best interests of its staff very high on its agenda, I'm also looking forward to my next visit!
Image: With young members of Midaya Ceramics' design team, Sayuru and Thilanka
---